100 KM | 09.06.2023
Also this year we run the 100 KM over the original route.
100 KM – distance:
The start and finish area will again be at the Tissot Arena. After the start on the boulevard "Stadien Süd", the course runs through the park "Schüssinsel" past the imposing Swatch building into the city center before leaving the city of Biel via the Port lock. After the ascent to Bellmund and the passage in Jens, it goes for the first time over unlit paths via Kappelen to Lyss. The route continues slightly up and down via Grossaffoltern and Scheunenberg through the Limpach valley to Oberramsern. From a distance, the lights of Mülchi already greet us, from where we continue after an easy climb via Etzelkofen to Jegenstorf and Kirchberg.
Who has not heard of the legendary Ho Chi Minh path? Unfortunately, due to renaturation measures, this path is no longer passable. However, the route runs in the same area along the attractive "Emmeuferweg" to Biberist.
At the end of the again slightly ascending Biberental, a short but crisp climb awaits to reach Arch through the Leuzigenwald. Along the Aare, the route reaches Büren an der Aare. Here waits the wooden bridge over the Aare, which was used by the runners for the first time last year. Along the Alte Aare, the route continues on another attractive riverside path in the direction of Meinisberg. From the Meinisberg cemetery, the last kilometers lead back to Biel along a stretch of the railroad line that is familiar from earlier times. After the railroad underpass in Mett, the Tissot Arena is already in sight, where the last meters before the finish line await.
Friday (09.06.2023)
Registration period
Price in CHF*
100 KM
01.10 – 31.12.2022
01.01 – 02.06.2023
03.06 – 09.06.2023
130.00
160.00
170.00
*Incl. SBB Runners ticket
(subject to change)
Register now here for the 100 KM:
'); -->
Route plan 2023: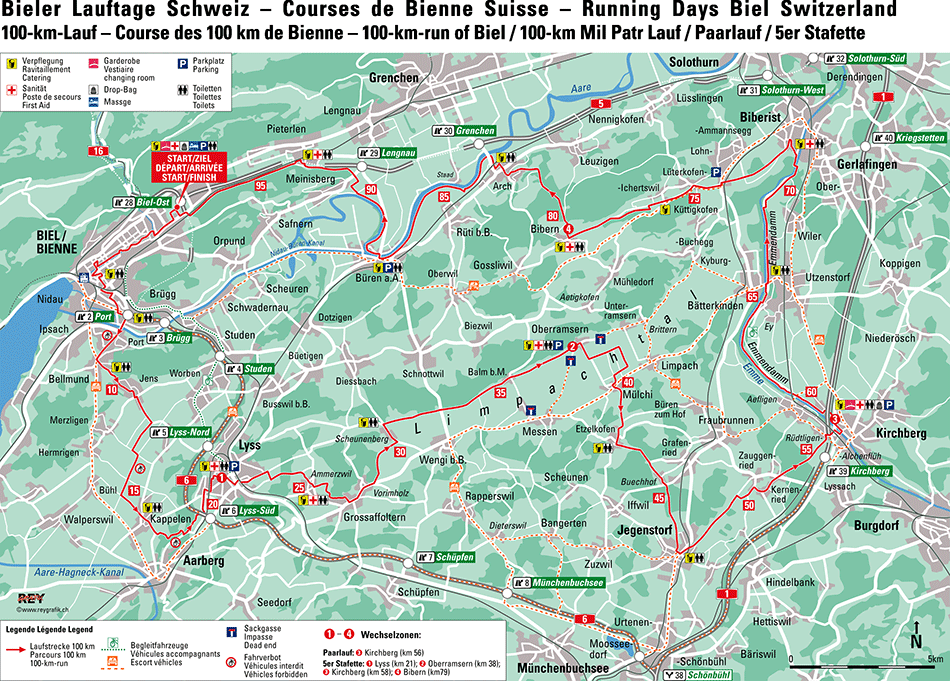 ATTENTION: According to the official measurement of Swiss Athletics, the distance is 100 KM and 25 meters. It may happen that the GPX files differ slightly from the exact measured route.